Welcome to our homepage.
Thank you for interest in GMEK inc.
The key members of GMEK Inc. have wide experience and a deep knowledge of the thin-film processes in the semiconductor industry over 15 years. With this background, we founded GMEK inc. in 2007. Since then, we have served our customers by providing highly qualified thin-films using sputtering deposition on various substrates. Also, during past few years, we have successfully developed some customized thin-film technologies and have been consulted customers about how to apply the technologies into their products. I'm sure that we do our best to satisfy our customers with a good and qualified thin-film technology, and always listen closely to voice of customer. Please, do not hesitate to contact with us via sending e-mail and/or posting a question in Q&A bulletin board of our home page. I will answer on your question and request in all sincerity.
Thank you.
With best regards,
Dong Su Lee, Ph.D.
President and CEO
GMEK Inc.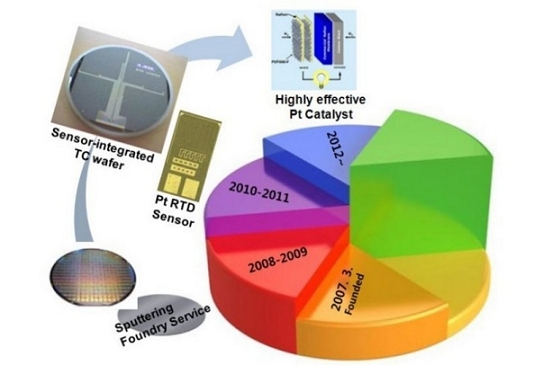 We had founded G.MEK Inc. on March 2007. Since then, we deliver a sputtering foundry service of various materials including Au, Pt, Ag, Cu, Ru, Ti, Ta, NiCr, TiN, TaN, SiO2, TiO2, and etc. to customers.

We have also developed some thin film devices such as Pt RTD sensor, sensor-integrated TC wafer, and thin film heaters during last few years, which may appear as a commercial products in near future.

In 2012, we will start to develop some devices and materials including a highly effective Pt catalyst which is widely used in energy and chemical engineering industries for a next big step of our business.
Business Area
Contents
Perform thin film foundry service (by sputtering of various thin films)

Common Metals
Noble Metals
Nitrides
Oxides
Cermet, etc.

Thin film devices and materials using GMEK's patented Pt technology

GG Pt RTD sensor
GG Pt thin film heater
Sensor-integrated TC wafer
Highly effective Pt catalyst

Thin film devices using GMEK's noble resitor technology

Heat resistors for printer heads
Heat resistors for Bio-chips
Heat resistors for high precision bake oven and compact mini-furnace

Performing technology development tailored to a customer specification on request

Project-based R&D via a contract
Performance results:
- Robust heat resistor for a Inkjet print head